Book Club meeting - The Donkey Principle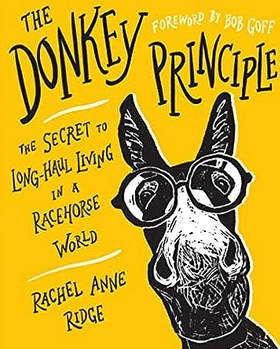 Tuesday, September 12, 6:00 pm until 8:00 pm
at Church, 17 Upper St.
Monthly Book Club gathering - everyone welcome - we are going to re-begin our church book club on Tuesday Sept. 12 at 6:00 pm. The book we will be discussing is "The Donkey Principal." Folks may bring a bagged supper to enjoy while we discuss the first two chapters of the book. To start, we plan to meet once a month
.
BOOK REVIEW: from member Janet Gerry
The Donkey Principle: The Secret to Long-Haul Living in a Racehorse World
by Rachel Anne Ridge (pub. April 4, 2023).
Ah, to be Mage, National Treasure, or Arcangelo –
How wonderful it must be to be a winning race horse: pampered, petted, and covered in flowers: roses, black-eyed Susans, and white carnations.* What do you have to do to get these fabulous rewards? It helps to be born as a thoroughbred who can run fast in a big circle – and it's all good until you can't go so fast anymore, and then it's over. You hang around in a paddock and maybe have a little donkey to be your stablemate. When your running days are done and you're put out to pasture (or worse), it's not such a pretty picture.
OK then, but what's so great about being a donkey? It's easy: you don't have to run fast, you don't have to go around in circles, and you get to figure out how to be wonderful on your own terms. That, anyway, is the premise of Rachel Anne Ridge's new book, The Donkey Principle. You may remember Rachel's earlier books: Flash, about a donkey who wandered up her driveway and transformed her life, and Walking with Henry, the story of a mini donkey who walked her through a time of trial and reflection.
Now, Rachel offers more donkey wisdom, specifically, "the secret to long-haul living in a racehorse world." She introduces four donkey-inspired actions you can take that create the acronym GOLD: Giving yourself permission, Owning your story, Leaning in to your unique strengths, and Delivering your work. One important piece of advice is not to try to be the best, since there can be only one best, but to be the "goodest" you can be.
This is a charming, low-stress, donkey-sweet book with one big message: "Your life is a gold mine that's filled with treasures just waiting to be unearthed." You may have to dig a bit, but the rewards are beyond measure.
* these are the wreaths that are draped over the winners of the Kentucky Derby, the Preakness, and the Belmont Stakes, respectively.
Posted to: Special Events on 2023-07-31 17:47:34 (updated 2023-07-31 17:50:30).